Mouthguards in Sports: A Necessary Piece of Equipment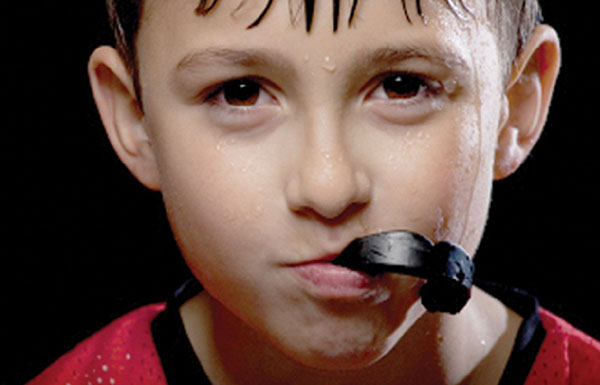 Youth and adolescent sports participation has grown steadily over the years. It is estimated that 20 to 25 million youths participate in competitive sports. As a result of this growth in participation levels, incidence of injury has also increased. Some have reported sports to account for approximately 36% of all unintentional injuries to children and adolescents. Of those injuries, 10-20% of all sports related injuries are maxillofacial injuries according to the American Dental Association.
The National Youth Sports Foundation for Safety reports dental injuries as the most common type of orofacial injury sustained during sports participation. They contend that an athlete is 60 times more likely to sustain damage to the teeth when not wearing a protective mouthguard. Often times these injuries will result in permanent damage to oral structures which require medical intervention.
The best mouthguard (based on research evidence), remains one that is custom designed and made by a dental professional with the athlete's individual needs taken into account. It allows the dentist to address questions at a "pre-season" screening or dental examination. The age of a child or adolescent athlete and the possibility of providing space for erupting (growing) teeth and jaws, can be accommodated with a custom-made guard. Even the very best over the counter product cannot insure quality and effectiveness.
Custom mouth guards are made from exact and precise models of an individual's own teeth; are made of resilient and tear resistant materials ensuring a proper fit; are comfortable, easy to clean, and do not restrict breathing. A properly fitted mouthguard must be protective, comfortable, resilient, tear resistant, odorless, tasteless, not bulky and have excellent retention, fit, and sufficient thickness in critical areas.
Prevention of Dental Injuries
Dental injuries are easily prevented. It has been suggested that a properly fitted custom mouthguard may reduce the rate of concussion as well as dental injuries.
Some experts recommend that mouthguards be worn by athletes in competitive and recreational sports in which impact, contact and collision are likely to occur. The American Dental Association recommends wearing custom mouthguards for the following sports: acrobats, basketball, boxing, field hockey, football, gymnastics, handball, ice hockey, lacrosse, martial arts, racquetball, roller hockey, rugby, shot putting, skateboarding, skiing, skydiving, soccer, squash, surfing, volleyball, water polo, weightlifting, and wrestling. Other experts include baseball and softball infielders on that list. They further recommend the mouthguard to be worn during all practices and competition.