Dental Implants
Dental implants are now the best option to replace missing teeth. They are a much more natural looking and longer lasting than conventional bridges or partial dentures. Traditionally, missing teeth have been replaced with fixed bridgework or removable partial dentures with metal clips for retention. The fixed bridge option requires grinding of the adjacent teeth in order to place the fixed bridge. Dental Implants on the other hand, can be placed without touching the adjacent teeth.
A dental implant is a biocompatible, man-made substitute to replace missing tooth roots; it is usually made of a space-age alloy of titanium. Dental Implants come in various shapes and sizes to fit different situations. Most are cylinders placed into bone and allowed to heal undisturbed while bone heals around them, locking them in like an anchor. After a few months, the dental implants are used as a foundation for replacing missing teeth. Dental implants restore lost chewing ability, improve appearance, end embarrassment and give real self-confidence to patients who need them. They are a real breakthrough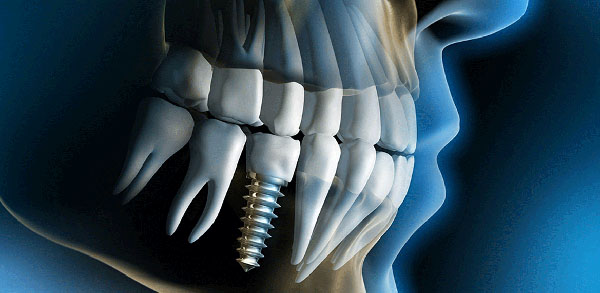 Placing implants involves the surgical placement of a permanent titanium "screw" (fixture) into the space and then fitting a crown onto the "screw". Dental Implants have the potential of looking much more natural than many fixed bridges, and they last longer.
Our doctors at A+Dentistry are certified professionals who have years of experience in Dental Implant placement and restoration.
To learn more about Dental Implants, call our office at 770-889-5335